FS601KDSP-Z Advanced Remote Custom Boat Alarm System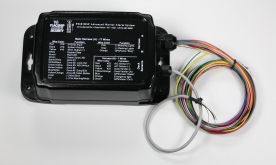 The FS601DSP-Z series is designed for military, commercial, or security application requiring a ruggedized alarm with custom outputs for communications, visual signals, and encoded sensors such as dock disconnect sensors. The FS601DSP-Z merges the proven design of our legacy FS301DSP-Z with a customizable interface to meet all of your security specifications.
So if your application needs a custom solution, please contact us directly. We will carefully review your marine security specifications and adjust the alarm's firmware to ensure all security needs are met in a simple, cost effective solution.
FS601KDSP-Z Standard Technical Specifications
Program up to sixteen code hopping transmitters without opening control box
Six auto-shunting hardwired zones
Internal deck sensor processor that can monitor up to four deck sensors. Option (2Z) incorporates a two zone deck sensor processor that monitors up to eight deck sensors
Marine Link wireless zone for tenders, dock disconnects and other remote sensors
Pre-warning feature provides an audible warning before activating main sirens
Intelligent siren reset - automatically adjusts siren run time due to faulty motion and pre-intrusion sensors
Flashes navigational, floods or spreader lights
Recallable last alarm memory
Quiet-Arm - uses optional ES1 mini-siren to eliminate loud audible siren status chirps.
Twenty-four hour remote panic mode
Delayed 24 hour zone for emergency sensors such as high water
Specialized interior cabin motion detector zone
Four programmable delay zones
Look-Out mode activates the optional ES1 mini-siren for six second notification if outside perimeter motion detectors activate. Does not activate main sirens in case of false trips.
Nine function status LED output
Auto power conserve for boats without dockside power
Ultra-low power consumption (8 milli-amps)
On-Board-Arming disables cabin motion sensors and eliminates entry delays for overnight stays
Activates vessel's lights for easy boarding
Accepts up to three command membrane keypads
Activates dialers and communicators
Arm/Disarm status output for opening and closing or setting trailer tilt sensors
Encoded hardwired output for Dockside disconnect sensors
Light indicator for High Water light and programmable voice alarm
Light indicator for loss of A/C or DC power
Marine color coded wiring harness
Independent communicator outputs
Field upgradeable controller for custom applications
All components are shock mounted and coated
Part # FS601DSP-Z and 2Z kit Contents
One four button, ten channel RF remote control
Miniature control module. Dimensions - 5" X 3.5" X 1.25"
Five amp fuse and water resistant fuse holder
Stainless steel mounting hardware for control box
Warning decal
Easy to follow instructions
FS601KDSP-Z Combination Keypad and Remote Alarm
For boats requiring both remote and keypad operation, the FS601KDSP-Z and 2Z comes with one low power surface mount membrane keypad and all of the features of the advanced remote FS601DSP-Z series. Up to three PK1 keypads can be added to any alarm system.
| | | |
| --- | --- | --- |
| | Why choose when you can have both? | |
Part # FS601KDSP-Z and 2Z kit Contents
One four button, ten channel RF remote control
One surface mount PK1 membrane keypad with six feet of cable
Miniature control module. Dimensions - 5" X 3.5" X 1.25"
Five amp fuse and water resistant fuse holder
Stainless steel mounting hardware for control box and keypad
Warning decal
Easy to follow instructions